Exclusive Mixtapes For Tasty Beatblog
You can find here the exclusive mixtapes who are made for Tasty Beatblog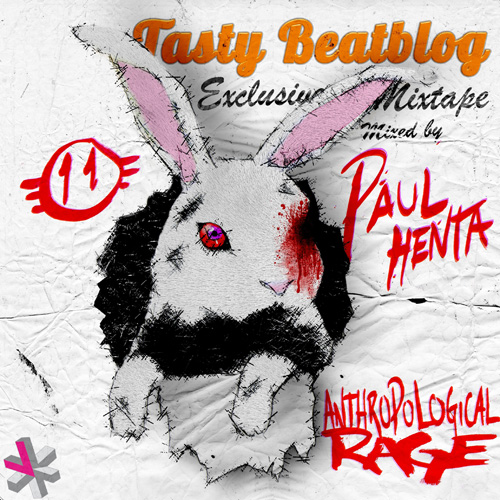 01. Largo Al Factotum (M*** P**** Remix)
02. Beastie Boys – No Sleep Till Brooklyn (Wick-it Remix)
03. Duubsolutly – Dubstep Of The Caribbean
04. Justrock – Fuck The World (Original Mix) [PROMO]
05. 12 Inch Plastic Toys – Cluck & Cling (Beef Theatre Remix) [PROMO]
06. SoundKill3r – It's Dead [PROMO]
07. Patient Zero – Dead Star [PROMO]
08. The Apple Trees – Out in Space (Original Mix) [PROMO]
09. Valy Mo – Buenaventura (Hantise Remix) [PROMO]
10. Samuel Ietto – First Contact [EXCLUSIVE]
11. K*** P*** feat. Sk*** – Zoology
12. Rage Against The Machine – Killing In The Name Of (Davr Dubstep Remix)
13. Zomboy – Organ Donor
14. Silvijo Zylfi – Esorcija [PROMO]
15. The Death Set – Comin to get us (Designer Drugs Remix)
16. Stereo Killaz – Die Robot Die (Malcolm Funktion Remix) [PROMO]
17. VNNR – What!? (Silent H! Remix) [EXCLUSIVE]
18. Smitech Wesson – Go (Original Mix) [PROMO]
19. Vismets – Wasted Party (Just Banana Remix)
20. Cosmic Sand – Back To The Moonlight Sonata (WASA3I remix) [PROMO]
21. M*** M*** – This Is The New Shit ( Dolores remix )
1 Boys Noize & Erol Alkan – Avalanche (Terminal Velocity) [feat. Jarvis Cocker]
2 Superrated – Vicious
3 Daft Punk – Technologic (Rogerseventytwo remix)
4 Highbloo – Playbook
5 D.I.M. And TAI – Ion
6 ZZT – Zzafrika (Tomas Andersson Remix)
7 Strip Steve & Das Glow – Calcium
8 Gesaffelstein – Hatred
9 Mumbai Science – Lotus
10 Sound of Stereo – Quartz
11 Blastaguyz – Rage (Paul Anthony & ZXX Remix)
12 Nobody Beats The Drum – Poisson Vert (TWR72 remix)
13 Bart B More – Gilles
14 Dem Slackers – Are You Ready
15 Dada Life – Fight Club Is Closed (Beef Theatre Remix)
16 Mustard Pimp – ZHM (Cyberpunkers Remix)
17 Noize Generation – Ghetto Rave (The Oddword Remix)
18 FX 1 – Donovans
19 Moonbootica – High Rollers
20 J Paul Getto – Swivel Hips Is Dead
01 Eargasm (Daddy's Groove Re-Edit) – Black Raw
02 Traction (Club Mix) – Bart B More
03 Fritz – Djedjotronic
04 Solar (Original Mix) – Keatch
05 Ion – D.I.M. And TAI
06 Get Rough (Original Mix) – Shaved Monkeys
07 ZHM (Cyberpunkers Remix) – Mustard Pimp
08 Neanderthal (feat. A Girl and a Gun) (The S Remix) – Belzebass
09 Dance Machine – GTRONIC
10 Chainsaw (The OddWord Remix) – Autodidakt & Electro Ferris
11 Sex & Cigarettes (Original Mix) – Aerotronic
12 Less Go! (Porter Robinson Remix) – Spencer & Hill
13 Daylight (Liberty Redux Remix) – Dumme Jungs
Tracklist
1 Housemeister – Music Is Awesome (Boys Noize remix)
2 Apster & Bassjackers – Klambu
3 Daniel Haaksman – Kid Conga (Highbloo remix)
4 Crystal Fighters – I Love London (Highbloo remix)
5 Felix Cartal & Keatch – Fish
6 Gregori Klosman & Danny Wild – Space Banana
7 Hey Today! – Minor (Para One remix)
8 Scissor Sisters – Any Which Way (Carte Blanche remix)
9 Mumbai Science – Lotus
10 Dr Gonzo ft. Lazy Ants & His Majesty Andre – Carcola
11 BeatauCue – Falcon Punch
12 Modek – 3 2 1 Go
13 Sound Of Stereo – Diamond
14 Bassjackers – Mush Mush
15 Geht's Noch? ft. Keatch – Body Jack
16 Dem Slackers – Let's Go (Bart B More remix)
17 Sovnger – Breathless (Alex Gopher remix)
18 The Subs ft. Les Petits Pilous – My Body
19 Serial Chillers – Euhm (Keatch remix)
20 Modek – Meet Julie
21 Flammenwerfer – Amino
22 Felguk vs Spencer & Hill – Fingertips (Spencer & Hill remix)
23 Clouds – Been Warned
24 Sound Of Stereo – Velcro
25 Sonic C & Digital Lab – Drunk Skunk (LA Riots remix)
26 The Loops Of Fury – I Need
27 D.I.M. & Tai – Ion
28 Simon Loncke – Snack Bar (unfinished project)
29 ZZT – ZZafrika (Sound Of Stereo remix)
30 Congorock & Crookers – Sbombers
31 Pink A Pad's – Pink Is Back (Gtronic remix)
32 Rones – Awesome Night (Modek remix)
33 Gtronic – Iron Man (Stereoheroes remix)
34 Djedjotronic – Dirty & Hard (Keatch remix)
35 Mom & Dad – Judas (Dem Slackers remix)
36 Blatta & Inesha – Basso Grasso (Mightyfools remix)
37 Sharooz – Get Off
38 Krafty Kuts & Sporty-O – Let's Ride (Ado remix)
39 Noize Generation – Ghetto Rave
40 The Oddword – Kortelas (VNNR remix)
41 Gtronic – My Money
42 Haezer – Fists In The Air
Who is TEN TEN?
TENTEN is duo of DJs from Prague, playing electronic music.
On the scene has been active since October 10th 2010.
They released a lot of quality mixtapes that the audience will quickly become very popular. In a relatively short period of time to play to his credit in such places as Roxy, MeetFactory, the 2nd Floor, Palác Akropolis, Groove and others. They played at Muffin, Muffin! party with famous dj Tvyks, Dj Tuco and Bad Mojo and also on VIBRATOR presents Jack Beats. Co-organized a popular underground party Gravity Flat, party called Something New In Your Bar in Groove Bar and PARTY!PARTY in bar Flirt.
They plan to issue their debut EP in the summer of 2011.
Tracklist
1. BeatauCue – Close
2. Brenmar – Want Me
3. High Powered Boys – Crash
4. Myd – Victoria
5. Style Of Eye – Wet
6. Les Gillettes – Carl Lewis (Mvsevm Remix)
7. Slap In The Bass – Padrino
8. Jaymo & Andy George – Pocket Song
9. Felix Cartal & Keatch – Fish
10. Clockwork – Ayoo
11. Mustard Pimp – ZHM
12. Autoerotique – Turn Up the Volume
13. No Body – Don't Go
14. Don Rimini – Whatever (Klever Remix)
15. Origin Unknown – Valey Of The Shadows (The Living Graham Bond Remix)
16. Quintino – Raider
17. Jona Lewie & Man Like Me – You'll Always Find Me (Slap In The Bass Remix)
18. Gonzales – I Am Europe (Djedjotronic Remix)
19. Rogerseventytwo – You Take Me Higher (NT89 Remix)
20. The Count & Sinden – Future (Canblaster Remix)
Who is Les Tronchiennes ?
The birth of Les Tronchiennes as DJ's was in 2009. Stef and Matthieu were member of a rock-band named ' Monkey Assault ' since 2007. After making a year of rock-music they both start to interest in electronic dance music, thanks to the upcoming electro-scene represented by Boys Noize , Justice , Erol Alkan, etc and thanks to the great party souwaxmas in Flanders Expo Ghent on 20/12/2007. Start to love the electro music in 2008 , it still lasted a whole year before Matthieu bought his first DJ-set. Having finally a DJ-set , Les Tronchiennes started to practice mixing on regular basis . Thanks to their membership of a youth movement , their first gig was at the annual party of that youth movement. Because they received positive reactions about that gig , they started to play at some other local party's. In 2010 they played at some bigger party's and proms , but they didn't turn the tables very frequently because the love for electronic ' underground' music at the local partys wasn't that great at that time! But they don't cared because they only wanted to play the music that they really love en that the crowd really loves !
Because they didn't play very frequently at party's and had spare time to do some other things with their love for dance music , Stef had the idea to start making tracks by themselves ! In October 2010 Stef started to make electronic music on his computer , helped by synth. January 2011 was a great month for the DJ-duo because Les Tronchiennes were signed up at 'be-nice records USA'.
Tracklist
1. Depeche Mode – Personal Jesus (Eric Prydz Remix)
2. Bassjackers – Mush Mush (Original Mix)
3. Halibro – Scientific Devil (Original Mix)
4. Damian William – Congas (Original Mix)
5. Prysmo – Hard Sax (Canblaster Remix)
6. Gregori Klosman – Low Battery
7. Canblaster ft. Berou – Kapongo Dance (Congorock Remix)
8. Joe Ghost – I Just Came (Original Mix)
9. Green Velvet – Answering Machine (Santiago & Bushido Remix)
10. Dem Slackers – Global Grind (Baskerville Remix)
11. Tommy Four Seven – Armed 3 (Original Version)
12. les Gillettes – Carl Lewis (Boy 8 Bit Remix)
13. La Fuente – Bang Bang (Original Mix)
14. Itch-E & Scratch-E – Other Planets ft. MDNA (Style Of Eye Remix)
15. Karami & Lewis – Pumpin' (Original Mix)
16. Modek – Mumps (Ado Aint Sick Remix)
17. Proxy – Vibrate (Noob Remix)
18. Nouveau Yorican – Jackit (Tony Senghore Remix)
19. Autoerotique – Bubonic (Original Mix)
20. Wolfgang Gartner – Fire Power (Original Mix)
21. Late Of The Pier – Best in The Class (Soulwax Remix)
22. Len Faki – Death by House (A.Mochi Remix)
23. The Afterschool Special & Whiskey Pete – Full House (Ryan Ribacks Techno Remix)
24. Harvard Bass – Pruno (Style Of Eye Remix)
25. TWR72 – Lights (Original Mix)
26. The Loops Of Fury – I Need (Original Mix)
27. Blatta & Inesha – Basso Grasso (Mightyfools Remix)
28. Bart B More – Traction (Original Mix)
29. Billy The Klit & Dani L. Mebius – Kniftig (Original Mix)
30. Will Bailey – Hit The Club (Mightyfools Remix)
31. Zombie Nation – Forza (Fukkk Offf Remix)
32. Evil Nine – They Live! (Trevor Loveys Remix)
33. Zero Gravity – Weinstein (Original (Promo) Mix)
34. Dem Slackers – Swagger (Clockwork Remix)
35. Breakdown – Feel Like ft. NTYS (Original Mix)
36. Torpen – Life in 90's (Nachos for The Early Riser Remix)
37. Andy George & Jaymo – Hold Me Back ft. J2K (BeatauCue Remix)
38. Medic – Dropping Through (Roofii-O Remix)
39. Tiga – Mind Dimension 1 (Original Mix)
40. Bart B More & Harvard Bass – Listen To This (Original Mix)
41. Computer Juice – Computer Juice (Original Mix)
42. Drop The Lime – Doomsday Device (Original Mix)
43. Menace – Hz & Tones (Original Mix)
44. Sebastian Léger – The People (Original Mix)
Les Tronchiennes On Facebook
Who is Zooash
"Massive Beats for Bourgeoisie"
Zooash stands since the fall 2010 for huge breaks, massive indievibes und acid sound nights all around germany and europe. But he isn't realy a new face in the scene, he worked since 2008 on different electronica-projects. From this point he gets big support for his stuff, for example from Dem Slackers, Wazabi , Beens and the crazy guys from Mako Rec. In 2010 he supported the Green Label Sound family on the "Business Casual Tour" from Chromeo and Holy Ghost! . He is also on part of the producer-duo "D!ZKO DANZE", which is rocking around germany,too. And they are located in Dresden. But there still an other big project he joines , which is called "CATBOT", an Hyperjazz-Duo from Portland (USA).
Tracklist
01. Juri Gagarin – Wet Dreams (JA!KOB & Mensch Meier Remix)
02. David Tort – Jack It Up
03. Goose – Synrise (Mumbai Science Remix)
04. Etnik – 303Minds (PolymathRemix)
05. Djedjotronic – Bugle (Planisfear Remix)
06. ZZT – ZZAfrika (Gesaffelstein Remix)
07. Proxy – Dance In Dark
08. Blatta & Inesha – Basso Grasso
09. Moston & Malente – I Go Round (Mom & Dad Remix / Malente Re-Dub)
10. Jori Hulkkonen – Opportunies
11. Jaymo & Andy George – Midnight
12. Matt Walsh & Zhao – Tiger Bite
13. Kurd Maverick – Warum Nisht!
14. Botnek – Dozer
15. Zombie Nation – Day of Many
16. Busy P – Procastinator (Hey Today! Remix)
17. Shadow Dancer – Silver (Original Remix)
18. Dirty Disco Youth – Heads Off (Proper Villians Mo'Acid Edit)
19. Mr.Spring – Voyager 1.56 (The Squatters Remix)
Zooash On Facebook
Who is TSNM ?
For alle the people getting here through the blog, and don't know what I'm doing; I'm a DJ from Bonn, age 27. For the most part I'm known for my show on di.fm (Digitally Imported) called 'NO EXCUSES', which runs every first and third wednesday on their Electro House channel. You can find the past shows in my profile here, too.
I've been in love with electronic music for a looong time, and started DJing for fun about two to three years ago. About half a year ago I bought a S4, as verbose mappings for abused MIDI devices just didn't cut it anymore. At the moment I'm mainly into melodic Maximal Electro, to call it that for a lack of a better name.
This mix is an hommage to my roots in Electro. Heavy on the Danger-esque sounds, borrowings from synthpop and quite dramatic! So sorry, no bangers for today, hope you'll not be completely upset with me now.
Tracklist
01. Calling In Sick – Belgrave 2 (Original Mix)
02. Cassette Culture – We Once Had An Empire (Jungle Fiction Remix)
03. Danger – 7h46 (Original Mix)
04. Jungle Fiction – Transhuman (Original Mix)
05. SymbolOne – Love Juice (Danger TV Remixes)
06. F.O.O.L – Dark Cyan Night (AutoLaser Remix)
07. Daze – The Escape (Original Mix)
08. Mille – Ghost Dancer (Original Mix)
09. Fear of Tigers – The Adventures of Pippi Longstrump (Human Contact Remix)
10. Worship – Bavaria 1999 (Original Mix)
11. Monsieur Adi – We Are The Romans (Flashworx Remix)
12. AutoLaser – Boreal (Original Mix)
13. Defeat – UNBRKBL (Original Mix)
14. BetaTraxx – Relix (Original Mix)
15. Drivepilot – Invaders (Original Mix)
16. NightWaves – Super Human (Original Mix)
17. Moderat – Les Grandes Marches (MMMatthias Remix)
18. Flashworx – Odaiba Chase (Original Mix)
19. Redail – Quiet Knight (Original Mix)
20. Mille – Crysteena (Fear of Tigers Remix)
21. Danger – 11h30 (Drivepilot Remix)
22. Noize Generation – Monster (Oscar Bravo Espinosa Remix)
23. Ishivu – Horus (Original Mix)
24. Danger – 3h16 (Original Mix)
25. Danger – 88h88 (Stage 3 The Club Danger Edit)
26. Ishivu – Palms (Original Mix)
Who is Beat Juice
Beat Juice is an association between Bastien & Benjamin, two friends who've known each other for many many years, the decided to begin mixing 1 year ago and since then dropped a mixtape every month and eventually begin to get gigs in Belgium, their home land. Influenced by Highbloo, Ado, Gesaffelstein, Mumbai Science and many many more big names of the electro scene, their mixes are a mixture of Techno & Electro with a bit of electro trash music! They're always looking for parties everywhere, so don't hesitate to contact them, they'll happily accept your request!
Tracklist
01 Gesaffelstein – Hatred (Original Mix)
02 Goose – Synrise (Mumbai Science Remix)
03 Tiga – Louder than a Bomb (Alko Remix)
04 GSUS! – Popsicles (Original Mix)
05 Mixhell – Antigalactic (Mumbai Science Remix)
06 Felix Cartal & Keatch – Solar (Original Mix)
07 Marble Players – Playground (Original Mix)
08 Djedjotronic – Fritz (Original Mix)
09 Brodinski – Tramp3 (Original Mix)
10 Flammenwerfer – Amino (Original Mix)
11 Lazy Jay – Reflux (Original Mix)
12 D-Wayne & Jacob van hage – Eponym (original Mix)
13 Djedjotronic – Tetris (Original Mix)
14 Sticky K – Prince of Persia (Original Mix)
15 Hostage – Mochachos (Attic Kings Remix)
16 Beataucue – Behold (Botnek Remix)
17 Joachim Garraud – Everybody In The Place (Autoerotique Remix)
18 Dr Gonzo – Springer (Original Mix)
19 Autokratz – A-Train (Original Mix)
20 Krafty Kuts & Sporty O – Let's Ride (Ado's Wild Style Remix)
21 Mightyfools – World Tour (Original Mix)
22 Boemklatsch – Think Big (Original Mix)
23 Designers Drugs – Dead Meat (Gtronic Remix)
24 Kissy Sell Out – Wild In The Warehouse (Ado's Concrete Remix)
25 Flammenwerfer – Fiber (Original Mix)
26 Disco Trash Music – Everything is Alright (Aerotronic Remix)
27 Berou & Canblaster – Kapongo Dance (Congorock Remix)
28 Sidney Samson – Blasted (Original Mix)
29 Soul Puncher – Cut Low With it (Lucky Date Remix)
30 Will – Bailey – Freeze (Original Mix)
31 Benny Benassi – Cinema (Laidback Luke Remix)
32 Justice – Civilisation (DJ DLG Lazor Remix)
33 Cyberpunkers & Daft Punk – Cabala Vs. harder,Better,Faster,Stronger
34 The Subs – Don't Stop (Original Mix)
Next Tasty Beatblog exclusive mixtape: 06 May  by The Cousins
Who is Dj Wolfee
Hi World I'm DJ Wolfee , born in 1984 , from Southend-on-Sea Essex, currently living in Liverpool UK!!
My musical Journey began in my early teens when i became a massive fan of UK Garage ,
being totally inspired by DJ EZ which pushed me to buy my first turntables aged 15.
Then one day in 2009 I purchased My 'Babies' CDJ400s , and from then on started mixing and mashing
only the best Electro , Dutch House and the odd Dubstep track.
For Tasty Beatrops … DJ Wolfee!!
Tracklist
01 Pitbull & Ne-yo & Nayer & Afrojack – Give Me Everything (Tonight) (Mikael Wills & Justin Sane Remix)
02 Tinie Tempah feat. Kelly Rowland – Invincible (Mikael Wills Remix)
03 Nicki Minaj feat. Drake – Moment 4 Life (DJ Kue Explicit Remix)
04 Robin S & Сorey Gibbons – At My Best (Invisible Brothers Remix)
05 Fatman Scoop ft. Clinton Sparks – Go Crazy (Anthem Kingz Remix)
06 Alvita Ft Levy Pro – I'm So Fly (Rocwell S and Volkan Saki Remix)
07 DJ Snake Ft. Eva Simons – Pressure In The Club (LOOPERS Remix)
08 Quintino vs. The Partysquad – Fire (Original Mix)
09 Ludacris – How Low Can You Go (Demian Ngo Baltimore Remix)
10 Club Certified feat. Akon Glasses – Kylian Mash (Fred Pellichero & Laurent Pepper Remix)
11 Nicki Minaj – Check It Out [DocRocHype]
12 Ian Carey feat. Snoop Dogg & Bobby Anthony – Last Night (R3hab Remix)
13 Tinchy Stryder – In My System (Ian Carey Remix)
14 Nari & Milani, Cristian Marchi ft Max C – I Got You (Nari & Milani Sunset Mix)
15 Laidback Luke Ft. Wynter Gordon – Dirty Strike (Dino Roc Bootleg)
16 Roger Sanchez & Far East Movement feat. Kanobby – 2Gether (Extended Mix)
17 Roll Deep Feat. Jodie Connor – Good Times (Ill Blu Remix)
18 Kato & Outlandish – Desert Walk (Raaban Remix)
19 DJ Bam Bam & Alex Peace – Vibrations (DJ Wolfee Clean Extended)
20 X-Factor – It Takes Ragga
21 Rudedog – Feel The Power Of Bass (Cahill Extended Mix)
22 N-dubz – Morning star (Matt Nash & Dave Silcox Remix)
23 Carolina Marquez – Wicked Wow (DJ Chuckie Extended Mix)
Next Tasty Beatblog exclusive mixtape: 29 April mixed by Beat Juice

Who is Tasty Beatdrops?
I'm Robin Anseeuw, better known as 'Tasty Beatdrops' and the person behind 'Tasty Beatblog'
I live in a small town called Kortemark, located in Belgium.
I'm already active as dj for one and a half year. Now i am working for to produce tracks and to get my new upcomming blog 'Tasty Beatblog' popular. This blog is a chance for unknown and upcoming dj's to become famous with their mixtapes, productions and remixes. This blog is made to show the world the dopest, hardest, heaviest and tastiest music!

Tasty Beatdrops For Tasty Beatblog by Tasty Beatdrops
Tracklist
01 Pleasure – Carabine
02 Savage Skulls – Caravan (Original Mix)
03 Bart B More – Gilles
04 MixHell – Antiglactic (Mumbai Science Remix)
05 Lorenzo Vektor – Turn It Up (Canblaster Remix)
06 Blasterjaxx – Djinn
07 Green Velvet – La La Land (Crookers Remix)
08 Yeah! Woho! – Pushing (Canblaster Remix)
09 Mat Cant, Scattermish – Hornbo (Sticky K Remix)
10 Federico Franchi – Cream (Redlight Remix)
11 Autoerotique – Turn Up The Volume
12 Last Japan – Reach Out (Blaze Tripp Remix)
13 Slap In The Bass – Xhosa
14 Four Four – Ohm
15 Wolfgang Gartner – Space Junk (Mstrv Edit)
16 The Subs ft. Highbloo – The Hype
17 1984 – Arabesque (NT89 Remix)
18 PeaceTreaty – Change (Rickyxsan's Bootleg Remix)
19 Tony Senghore – Burnin' (Keith & Supabeatz Remix)
20 Two Charming Men – Brusque
21 Berou & Canblaster – Kapongo Dance (Congorock Remix)
22 Blaze Tripp – Vertigo (Hostage Remix)
23 The Subs – The Face Of The Planet (Style Of Eye Remix)
24 Sound Of Stereo – Hurricane
25 JSK – Shave
26 Dooze Jackers – Konani
27 Ado – Pop an Jerk & Belter Drive (Tasty Beatdrops Edit)
28 Highbloo – Time To Change pt 1
29 Malente & Azzido Da Bass – Hunting (Dem Slackers & Fake ID Remix)
30 Beat & Bang – Hunger (Zombies ate Ado's lunch…gutted mix)
31 Dolby Anol – Weapons Of Mass Distraction
32 Blatta & Inesha Daddy's Home (2 Guys in Venice remix)
33 Bart B More & Harvard Bass – Listen To This (Jan Driver Dub)
Next Tasty Beatblog exclusive mixtape: 15 April mixed by Dj Wolfee